Important: I have designed this tool for my own use. Bugs may remain.
Please write me if you bump into one, or to suggest upgrades.
---
This free template allows to create a visual representation of a series of events/periods, and easily scroll through it (zoom, fast forward…). I have designed it for forensics video formats, but you may find a different use for it. It is inspired by the work of Forensic Architecture, but re-designed from scratch to suit my need.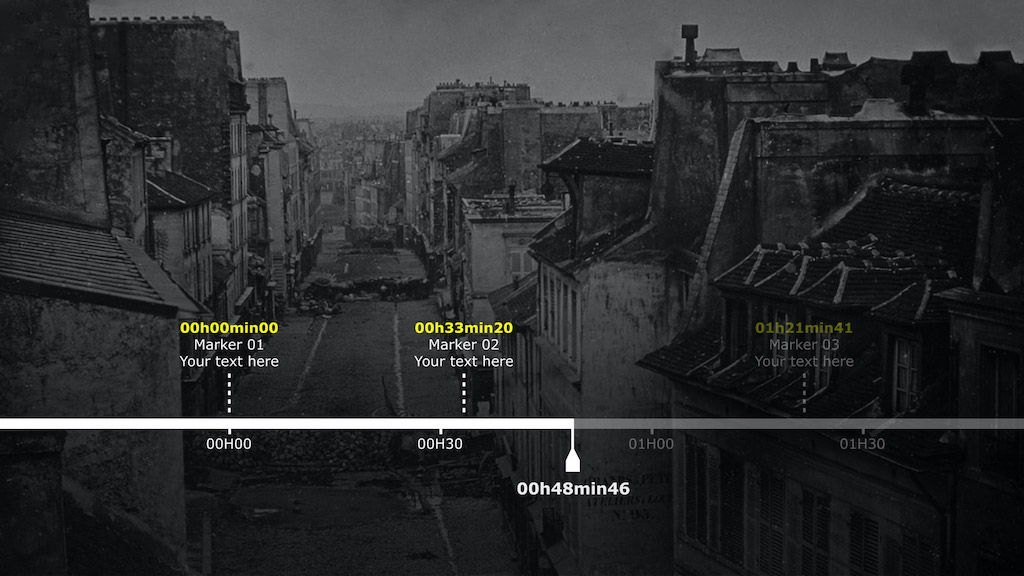 ⚠️ This After Effects project will bug if you are not running with one of these two languages. More info at the bottom of the page.
Note
This is a tool to present an analysis. This is

not

something that will be any helpful to synchronise or analyse footage.
Events are anchored in seconds. Meaning that it is relevant to visualize time frames from several minutes, up to ~5-10 hours. But not really more than that I guess.
I recommend to edit it in your editing software, after a render in transparency. (I detail my workflow below, on tutorial #2.)
It is designed to be adapted to your own visual identity.
This is a version one. So feel free to report me any bug or remark. (And if you end up using it, please share with me the result!)
Use-cases
Tutorial
---
⚠️ About the bug: this project file works with expressions, language sensitive. I provide above english and french versions. If you are not running After Effects with one of these: the bug comes when expressions are pointing to a "Slider" component. In the code, you just need to change "Slider", by the word used in your language. You can also contact me, and I can help you to fix it. (Oh and, if you know how to bypass this issue, please let me know!)